16 best English wines
Discover some special home-grown bottles this year – from Cornish rosé to whites made in the Midlands
The Independent Online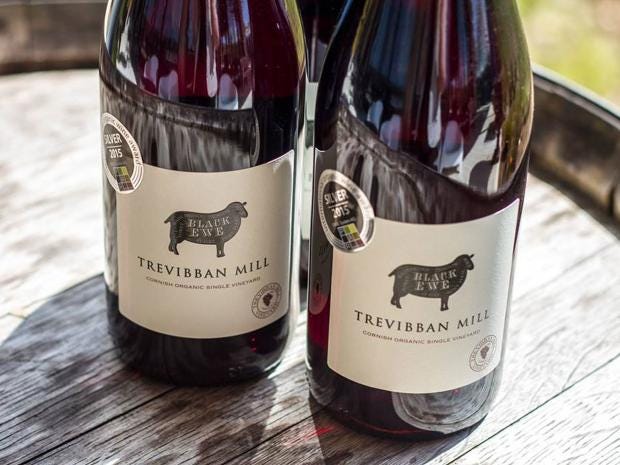 English wines collected a whopping 120 medals at this year's International Wine Challenge, with many of our sparkling wines giving Champagnes a run for their money.
But although it's fabulous fizz that we've become most famous for, the Brits are also producing some great home-grown white and rosé still wines – and even reds.
And the trend is set to continue, with sales for English wines having risen sharply in the likes of Waitrose, Sainsbury's and Marks & Spencer. Meanwhile, licence applications to HMRC for new vineyards have increased by 40 per cent in the past year alone. Even the French want a slice of the action, with Tattinger having become the first French label to invest in English sparkling wines.
READ MORE
Read on to find out more about our favourites. Whether you want a fancy fizz to sip all on its own, a robust red to enjoy with some meat or cheese, or a delicate white or rosé for those balmy summer evenings, we've got something for every occasion.
Sixteen Ridges Rosé, 2014: Once Upon A Tree 
If you're after a glass of crisp, dry pink stuff for a hot summer's day, this Worcestershire rosé will do you proud. It's rich, ripe and explodes with flavour, while remaining delicately balanced. You'll get a whiff of raspberries, while the flavour goes onto include strawberries, summer fruits and earthy cherries. Great with pasta, shellfish and anything containing goat's cheese.
Nyetimber Blanc de Blancs, 2009: Harvey Nichols 
This elegant, pale gold Chardonnay fizz comes from one of the top names in English wines, which uses only its own grapes from its Sussex vineyards. A big award winner at this year's International Wine Challenge, it is a true rival to Champagne, with the finest of bubbles and fresh citrus flavours, balanced by a gentle creaminess.
Exton Park Pinot Meunier Rosé, NV:  Exton Park Vineyard  
The first ever English sparkling wine in the UK to be made from the Pinot Meunier grape, this vibrant yet delicate coral-coloured delight comes from a Hampshire vineyard that only put its first wines on the market a year ago. Scented with the likes of honeysuckle and jasmine, it is delicate yet full-flavoured, with a long peach finish.
Bolney Wine Estate Pinot Noir, 2014: Waitrose Cellar 
While English winemakers have traditionally favoured white or sparkling wines, this year two silver medals were awarded to English reds at the International Wine Challenge, one of which is this aromatic, medium-bodied offering from Sussex. Think red cherry, bacon and cedar wood, which make for interesting aromas and flavours. It goes a treat with cheese, any pudding with berries in and, interestingly, meats you'd normally enjoy with white wine, such as chicken, pork and rabbit.
Giffords Hall Bacchus, 2014: Waitrose  
Put that predictable New Zealand Sauvignon Blanc back on the shelf and try this for a fresh alternative. Bacchus, which is a Riesling/Sylvaner cross, is a notoriously difficult variety of grape to grow, but this crisp East Anglian wine does it proud, with gooseberry and elderflower notes, bursting with tropical fruit flavours.
Wiston Estate Blanc de Blancs 2010: Wiston Estate 
Another supremely stylish single-vineyard, single-vintage and single-variety Chardonnay fizz from Sussex, this one is lively and youthful, with citrus and biscuit on the nose, and a flavour that's rich and creamy, while also fresh. Aged in cellars for nearly four years, enjoy this multi-award winning wine now or keep for another few years to see those flavours grow more complex.
Camel Valley Pinot Noir Brut 2013: Camel Valley
This delicate salmon-peach -oloured sparkling rosé is made in Cornwall by the Lindo family. Created entirely from pinot noir, one of the three main champagne grapes, it kicks off with aromas of wild strawberry and raspberry, which lead onto a light, fresh and creamy flavour that keep red fruits at the forefront. More refreshing and gentle than champagne, it is an utter joy from start to finish.
Trevibban Mill Black Ewe Red, 2014: Trevibban Mill 
Planting began in 2008 for this Organic Cornish vineyard, whose land is also rich with cider-producing orchards. Their smooth Soil Association Certified Pinot Noir, which scooped a silver award at the International Wine Challenge, has a rich bouquet of red fruit and berries, with black cherry and clove continuing onto the palate. Goes particularly well with roast lamb with rosemary, pasta dishes and cheese.
Hambledon Vineyard Classic Cuvée, NV: Wine Trust 100
Think apples – fresh Granny Smith apples, to be precise – combined with yeasty, pastry notes for this lively, fresh wine that comes from England's oldest commercial vineyard, spreading across 50 acres of the South Downs in Hampshire. Dry and zesty, but also beautifully soft, it is well-balanced and has a long, lingering aftertaste. Drink on its own or with shellfish.
London Cru Bacchus 2014: London Cru 
Produced in London from grapes grown in Kent, this light, crisp and aromatic white wine has fresh perfumed notes of citrus and elderflower, with a bright, smooth flavour that lights up delicate dishes like lemon sole. Showing off the gentle character of Bacchus in all its glory, it also has an acidity that cuts through oils, so it goes well with anything tempura.
Ridgeview Blanc de Noirs, 2010: Ridgeview 
This deep gold-coloured fizz is only made from red grapes – a 50/50 blend of Pinot Noir and Pinot Meunier – which makes it rounded, soft, and very easy to drink. Expect rich, red fruit aromas, with complex, toasty flavours that are almost savoury. Drink on its own or pair with light game meats, lamb or mushrooms.
Litmus White Pinot: Marks and Spencer 
Even the bouquet of this Surrey-produced wine is quintessentially British, with its aromas of pear, baked apple and toffee. And because the wine is made from red wine grapes, you can expect a full-bodied character, with flavours of melon and cherry, balanced by soft oak. Don't be fooled by the red grapes, though – this is still very much a white wine, and one with a clean taste to be consumed on its own or with most foods, but especially shellfish.
Chapel Down Kit's Coty Estate Chardonnay, 2013: Chapel Down
Many of Chapel Down's award-winning wines are blends, but this seductive alternative to a white Burgundy is single-vineyard wine that boasts a rich bouquet of apple, apricot, nutmeg and toast, with complex flavours that are fresh, yet creamy. Goes well with fish and shellfish, particularly lemon sole or scallops. Produced in Kent.
Alder Ridge Vineyard – Blanc De Noirs, 2013:  Alder Ridge
This small vineyard, located at Cobbs Farm, near Hungerford in West Berkshire, boasts the same chalky substrate and flinty topsoil of the Champagne region, which provides perfect conditions to establish the classic Champagne grape varieties. The wine, which won a silver medal at the International Wine Challenge, is alive with flavour, including raspberry and sherbet, and is fresh and invigorating.
Halfpenny Green Vineyards Tom Hill, 2014: Halfpenny Green Vineyards
This light golden, decadent white wine from Staffordshire hits the nose with exotic citrus, honeysuckle and beeswax, while the flavours are bold and well-balanced. A perfect pairing wine for paella, it also goes nicely with any foods that are tomato or lemon based, as well as white meats. You only need to bung it in the fridge 90 minutes before serving as it's best served around 12°C.
Sharpham Sparkling Blanc Brut, 2013: Sharpham Wine & Cheese
This blend of Pinot Noir, Pinot Meunier and Chardonnay has a brioche bouquet and just the right balance of crispness to make for an exceptionally refreshing aperitif, which goes a treat with canapes. If ever you're down in south Devon, be sure to try and visit the vineyard, where there are great walks and a fabulous alfresco restaurant.
Verdict
If you enjoy a glass of bubbles and have never tried Nyetimber Blanc de Blancs 2009, you need to snap up a bottle ASAP. We also have a particularly soft spot for Chapel Down Kit's Coty Estate Chardonnay and Trevibban Mill Black Ewe Red, 2014.
IndyBest product reviews are unbiased, independent advice you can trust. On some occasions, we earn revenue if you click the links and buy the products, but we never allow this to bias our coverage. The reviews are compiled through a mix of expert opinion and real-world testing